Welcome to our site!




I would personally like to welcome you to
Silver Mist Labrador's Website.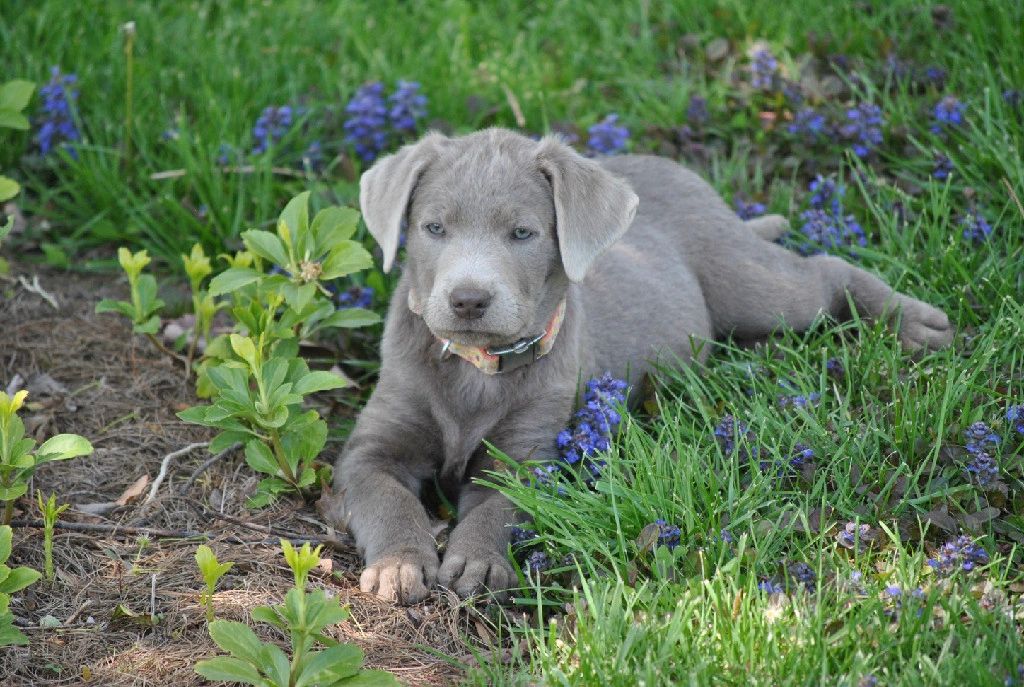 Above pic: "Jaz" - one of our Silver Labradors at 10 weeks
*************************************

Here at Silver Mist Labradors we believe that all the colors are beautiful--
although we hold a special place in our hearts for the striking
Silver, Charcoal and Champagne Labs!




*************************************

One of our Puppy Socialize-rs :)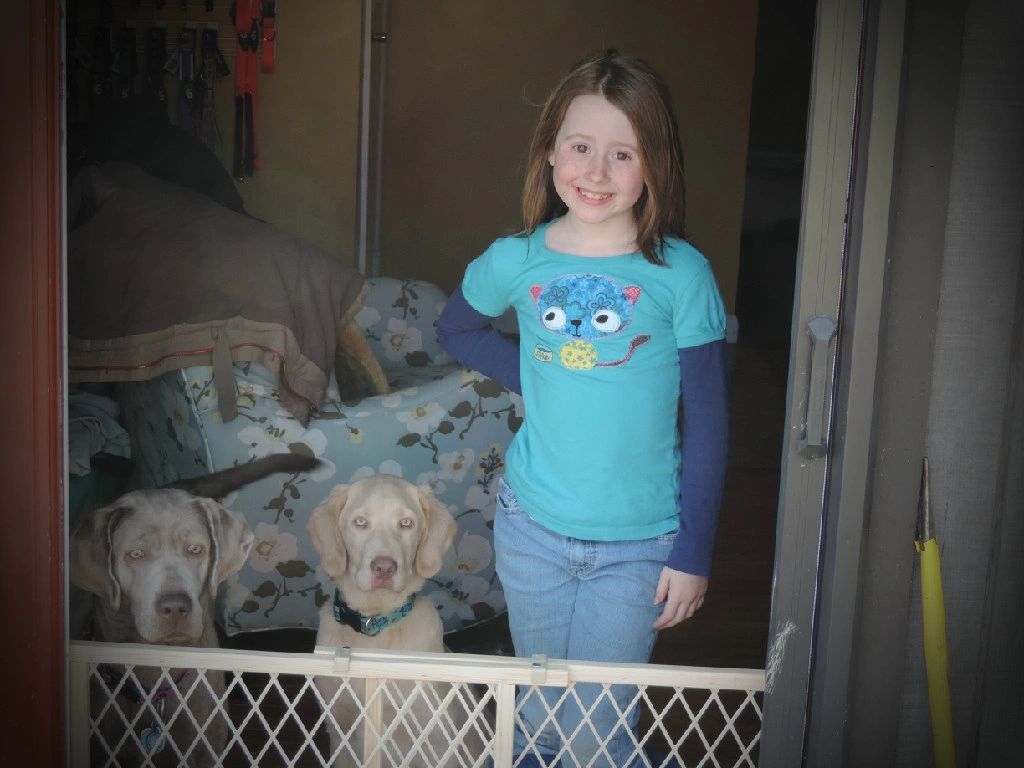 We are a breeder that is tremendously
devoted to what we do.

We put a lot of time and effort in to our joy and passion!

We hold health testings & OFA testings as a high
importance for our Labradors.

We are
constantly
striving to ensure that we are breeding
to the highest quality possible.
All of our Labradors come with copies of all their health testings and if possible copies of their x-rays. So that you can be sure that your puppy is clear of hereditary health problems.
Our two children assist us with the daily chores and upkeep of a family of Labradors. They are great helpers in making sure that all our puppies and our Labradors are well socialized.
********************************************************
Answers to the main questions
we get asked:
We are continually focusing on Improvement Breeding.
All of our puppies are registered with the AKC.
We are an AKC Inspected and Approved Kennel.
Our Labradors are health tested.
All of our puppies are micro-chipped (unless otherwise requested).
Yes, we do have full-time indoor Labradors and those that frequent the house often. We also bring our pregnant females indoors as whelping approaches and also after.
All our puppies are sold with AKC Pet Registration
(Limited Registration - Non-Breeding).


********************************************************

Do your research!
Make sure you are buying from a reputable breeder.
Be prepared to ask questions and know what you want.
Health Testings/Clearances should be at the highest importance to a breeder
...as should the overall
commitment
to improved breeding and the life of their Labradors.

********************************************************
Why we do, what we do
We love Labrador Retrievers because they are fun loving and make wonderful family oriented pets. Labs are a devoted, playful and an
intelligent
breed. They make a great addition to any family....large or small and adapt well to all types of lifestyles.

& because they make our lives happier :)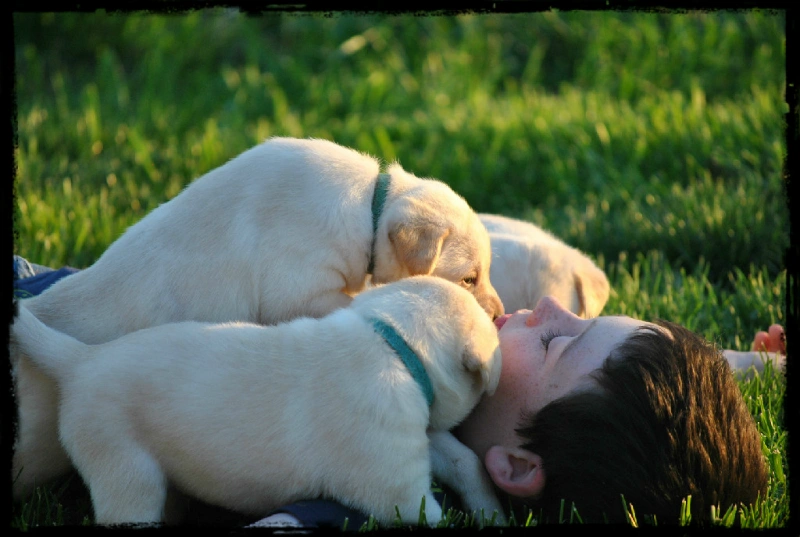 Our main interest is in the dilute and unusual colors (such as: silver, charcoal and champagne); however, we love all of the variety of colors produced within the Labrador Retriever genotypes.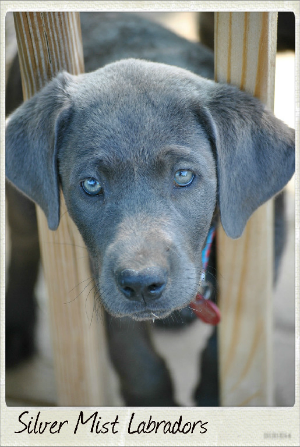 One of our main focuses is on type and temperament. All of our lab puppies are born in our home and have a "one on one" interaction with us from the moment of their birth until they are ready for their new homes
When our lab puppies leave us for their new homes, we provide detailed instructions and a folder filled with helpful information on the art of raising a puppy, as well as copies of the parents pedigrees, and their health clearances. We are in the process of certifying all of our breeding stock through OFA (hips, elbows, cardiac & patella) and working towards all clearances such as EIC (Exercise Induced Collapse, CNM (Centronuclear Myopathy) , DM (Degenerative Myelopathy), Hereditary Nasal Parakeratosis, Retinal Dysplasia/Oculoskeletal dysplasia 1, Skeletal dysplasia 2 and PRA/prcd (Progressisve Retinal Atrophy, Progressive Rod-Cone Degeneration & Cystinuria.

All of our lab puppies are sold with a AKC Limited
Registration.

ALL of Our Puppies Receive:
Routine Wormings
Dew Claws Removed
AKC Re-unite Microchip
Neopar Vaccine at 5 weeks
1st set Puppy Shots at 7 weeks
Blanket/Toy with Mommy & Sibling Smell
Tote Bag
with Puppy Pads, Wet wipes, & Paper towels
AKC Pet Registration Paperwork
Copies of Parents Pedigrees
Copies of Parents Health Testings...including X-rays
Trial of Life's Abundance Wellness Vitamins
Trial of Life's Abundance Training Treats
3.3 lb of Life's Abundance Premium Food


*************************************************


All of our lab puppies are loved and played with by our family. Our young children are very much involved with the rearing of our labs. Our dogs love playing hard and resting in between :)


Our Labs are all well adapted to a wide variety of noises and interactions.
They love to go on walks, exploring the outdoors, swimming, camping, playing with the other dogs, and several of them will even allow my daughter to play dress up with them... precious.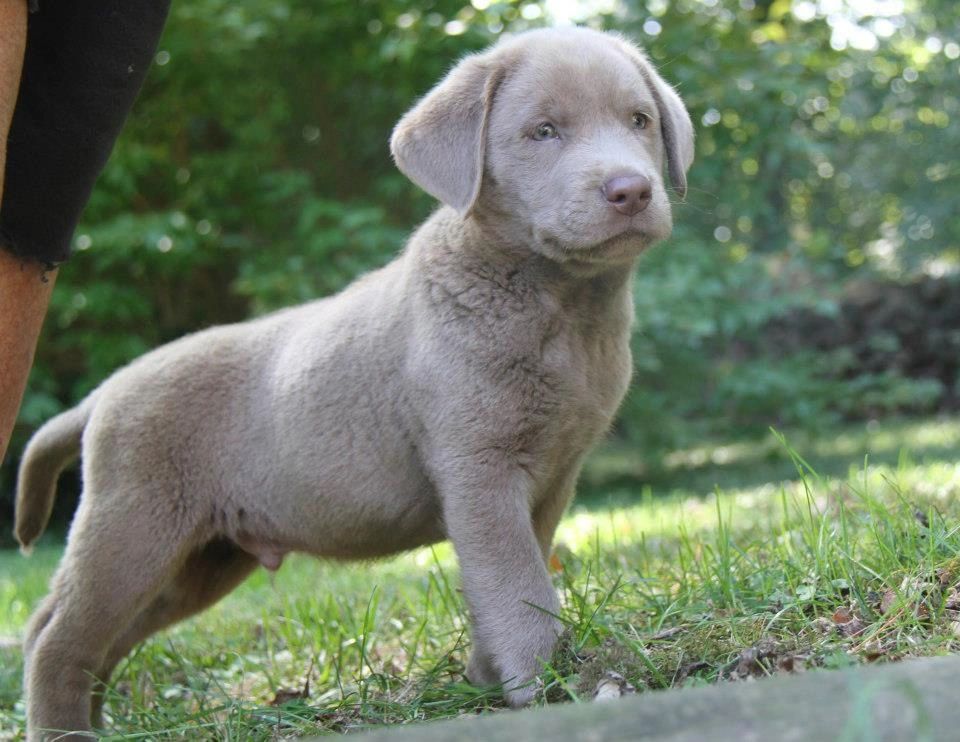 Jaxx - currently living in Louisville, KY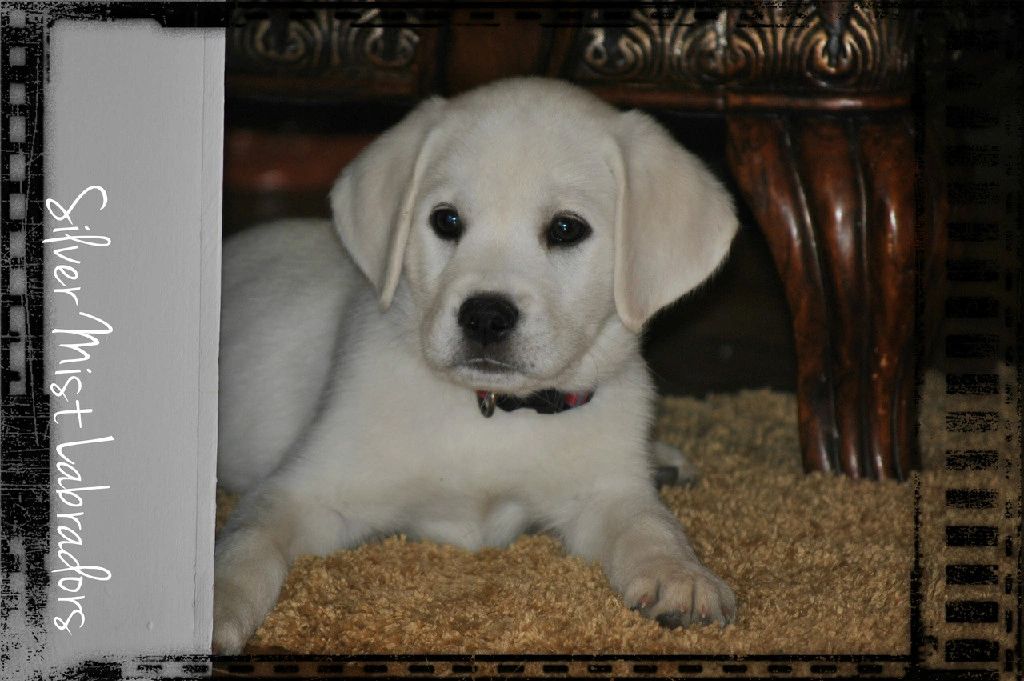 Chillin' in the house :)
Sisters playing with their puppy toy...sweet!
_________________________________________________________________________________________________________________
*************************************************************************************************************************************************************************************

Labs of a Different Color

Although the AKC acknowledges the many different colors of the versatile Lab, including Silver and Charcoal, it is true the AKC only recognizes the Yellow, Black and Chocolate in the Show Ring, and although the Chocolate colored Labs had an easier time, the Yellows were only accepted after a few strong supporters of the color refused to give up.

And so the lovers of these beautiful Silver, Charcoal, Champagne, White and Fox Reds are left to hope the AKC will see the popularity of these colors surge and allow them to have the full recognition they deserve, not in the field, or home where they already reign, but to the show ring also so that these colors can be held accountable to the AKC standard of the Labrador Retriever alongside their Black, Chocolate and Yellow breed mates!

"Labrador Retrievers that express the dilution gene (dd) are recognized and registered by the American Kennel Club (AKC) based on their foundation genetic... colors, Black, Yellow, or Chocolate.

-

Labradors that are descriptively called "Silver"

are registered as their base genetic color Chocolate.




- Labradors that are descriptively called "Charcoal"
are registered as their base genetic color Black.




- Labradors that are descriptively called "Champagne"
are registered as their base genetic color Yellow.




- Labradors that are descriptively called "Red Fox"
are registered as their base genetic color Yellow.

- Labradors that are descriptively called "White"
are registered as their base genetic color Yellow.
The policy of registering light shades of the breed standard-described colors was established after a joint investigation by the AKC and Labrador Retriever Club of America (LRC) in the 1980's, wherein breed purity of "Silver" Labradors was also confirmed.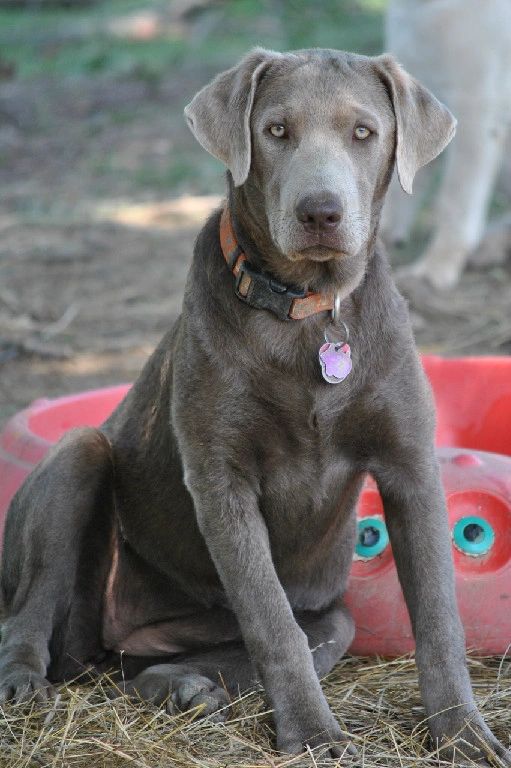 Jaz at 6 months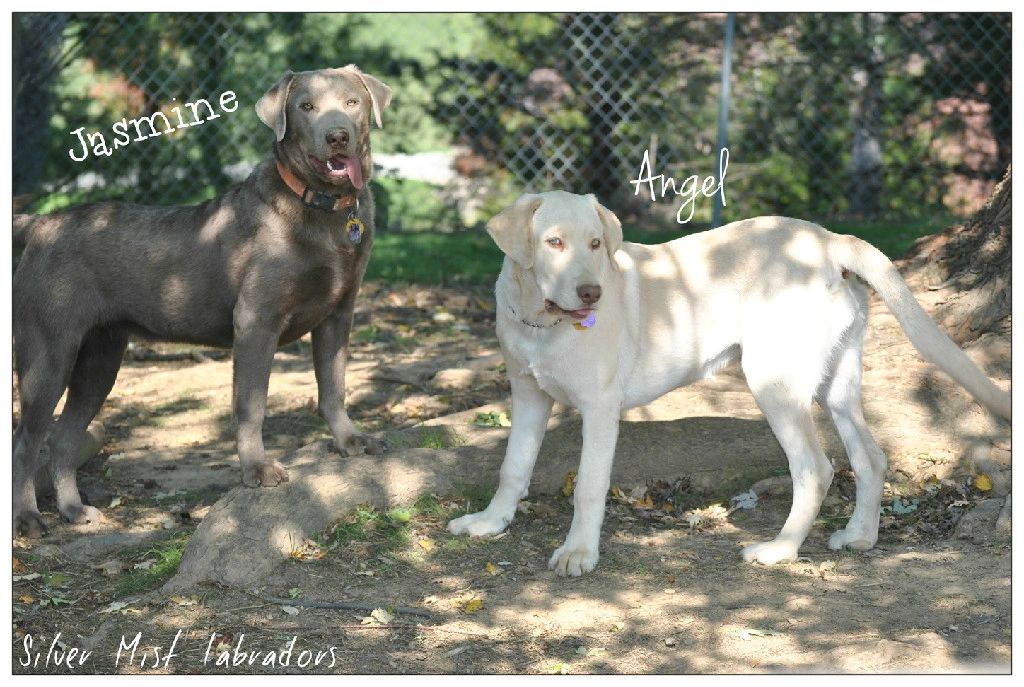 Pictured above: Jaz (silver) & Angel (champagne)
One of our pups born in July 2012 - Silver Labrador :)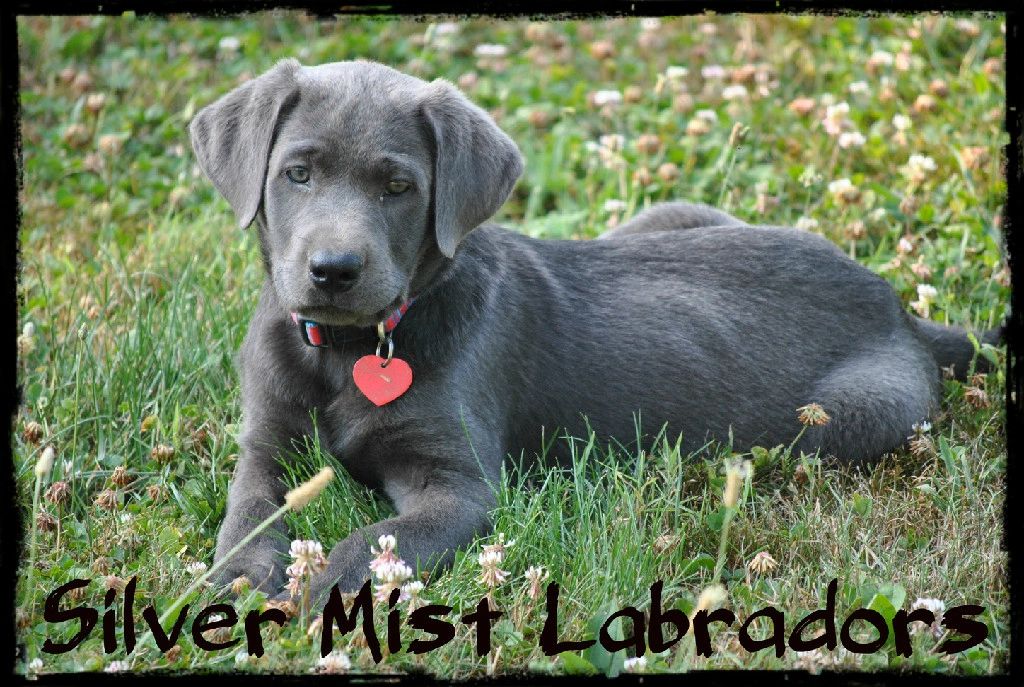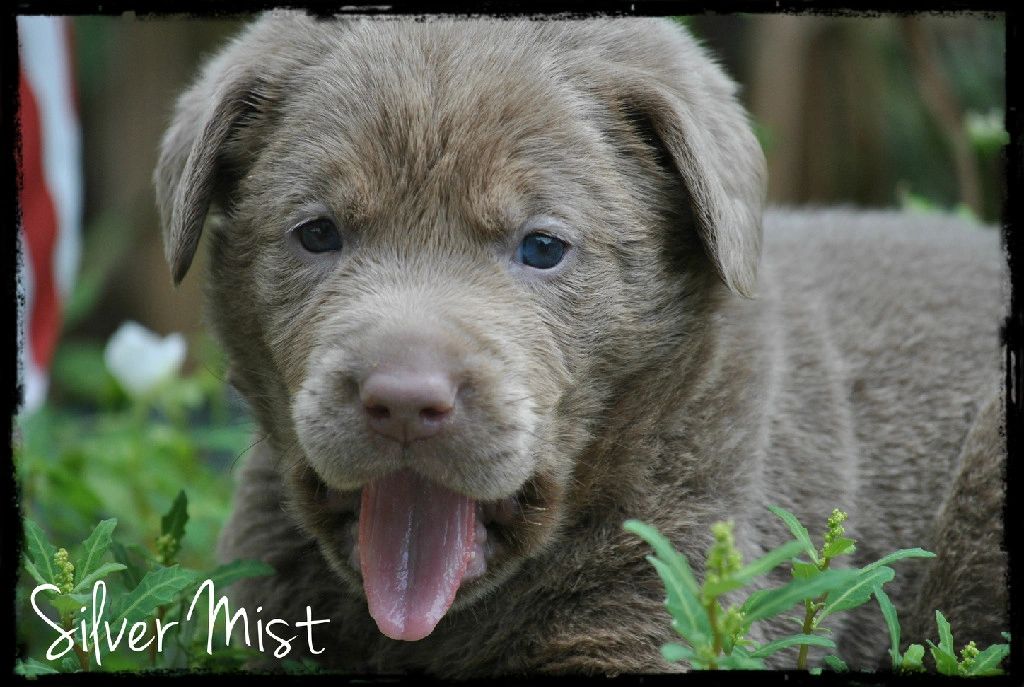 Above pic: previous chocolate pups
**********************************************************
silver Labrador, lab breeder, Labrador puppies, silver labs for sale, silver la
b puppies for sale, silver Labradors, Labrador puppy, Labrador puppies for sale, Labrador retriever puppy, chocolate Labrador puppies for sale, white lab puppies,silver Labrador, lab breeder, Labrador puppies, silver labs for sale, silver lab puppies for sale, silver Labradors, Labrador puppy, Labrador puppies for sale, Labrador retriever puppy, chocolate Labrador puppies for sale, white lab puppies,silver Labrador, lab breeder, Labrador puppies, silver labs for sale, silver lab puppies for sale, silver Labradors, Labrador puppy, Labrador puppies for sale, Labrador retriever puppy, chocolate Labrador puppies for sale, white lab puppies,silver Labrador, lab breeder, Labrador puppies, silver labs for sale, silver lab puppies for sale, silver Labradors, Labrador puppy, Labrador puppies for sale, Labrador retriever puppy, chocolate Labrador puppies for sale, white lab puppies,silver Labrador, lab breeder, Labrador puppies, silver labs for sale, silver lab puppies for sale, silver Labradors, Labrador puppy, Labrador puppies for sale, Labrador retriever puppy, chocolate Labrador puppies for sale, white lab puppies,silver Labrador, lab breeder, Labrador puppies, silver labs for sale, silver lab puppies for sale, silver Labradors, Labrador puppy, Labrador puppies for sale, Labrador retriever puppy, chocolate Labrador puppies for sale, white lab puppies,silver Labrador, lab breeder, Labrador puppies, silver labs for sale, silver lab puppies for sale, silver Labradors, Labrador puppy, Labrador puppies for sale, Labrador retriever puppy, chocolate Labrador puppies for sale, white lab puppies,silver Labrador, lab breeder, Labrador puppies, silver labs for sale, silver lab puppies for sale, silver Labradors, Labrador puppy, Labrador puppies for sale, Labrador retriever puppy, chocolate Labrador puppies for sale, white lab puppies,silver Labrador, lab breeder, Labrador puppies, silver labs for sale, silver lab puppies for sale, silver Labradors, Labrador puppy, Labrador puppies for sale, Labrador retriever puppy, chocolate Labrador puppies for sale, white lab puppies,silver Labrador, lab breeder, Labrador puppies, silver labs for sale, silver lab puppies for sale, silver Labradors, Labrador puppy, Labrador puppies for sale, Labrador retriever puppy, chocolate Labrador puppies for sale, white lab puppies,silver Labrador, lab breeder, Labrador puppies, silver labs for sale, silver lab puppies for sale, silver Labradors, Labrador puppy, Labrador puppies for sale, Labrador retriever puppy, chocolate Labrador puppies for sale, white lab puppies,silver Labrador, lab breeder, Labrador puppies, silver labs for sale, silver lab puppies for sale, silver Labradors, Labrador puppy, Labrador puppies for sale, Labrador retriever puppy, chocolate Labrador puppies for sale, white lab puppies,silver Labrador, lab breeder, Labrador puppies, silver labs for sale, silver lab puppies for sale, silver Labradors, Labrador puppy, Labrador puppies for sale, Labrador retriever puppy, chocolate Labrador puppies for sale, white lab puppies,silver Labrador, lab breeder, Labrador puppies, silver labs for sale, silver lab puppies for sale, silver Labradors, Labrador puppy, Labrador puppies for sale, Labrador retriever puppy, chocolate Labrador puppies for sale, white lab puppies,silver Labrador, lab breeder, Labrador puppies, silver labs for sale, silver lab puppies for sale, silver Labradors, Labrador puppy, Labrador puppies for sale, Labrador retriever puppy, chocolate Labrador puppies for sale, white lab puppies,silver Labrador, lab breeder, Labrador puppies, silver labs for sale, silver lab puppies for sale, silver Labradors, Labrador puppy, Labrador puppies for sale, Labrador retriever puppy, chocolate Labrador puppies for sale, white lab puppies,
silver labrador, lab breeders, labrador, labrador puppies, silver labs for sale, silver lab puppies for sale, silver labrador, lab breeders, labrador, labrador puppies, silver labs for sale, silver lab puppies for sale, silver labrador, lab breeders, labrador, labrador puppies, silver labs for sale, silver lab puppies for sale, silver labrador, lab breeders, labrador, labrador puppies, silver labs for sale, silver lab puppies for sale, silver labrador, lab breeders, labrador, labrador puppies, silver labs for sale, silver lab puppies for sale, silver labrador, lab breeders, labrador, labrador puppies, silver labs for sale, silver lab puppies for sale, silver labrador, lab breeders, labrador, labrador puppies, silver labs for sale, silver lab puppies for sale, silver labrador, lab breeders, labrador, labrador puppies, silver labs for sale, silver lab puppies for sale, silver labrador, lab breeders, labrador, labrador puppies, silver labs for sale, silver lab puppies for sale, silver labrador, lab breeders, labrador, labrador puppies, silver labs for sale, silver lab puppies for sale, silver labs ohio, silver labs ohio, silver labs ohio, silver labs ohio, silver labs ohio